3. PEP Weihnachtsvorlesung: "Politics, Power and the Law: From David Hume to John Nash"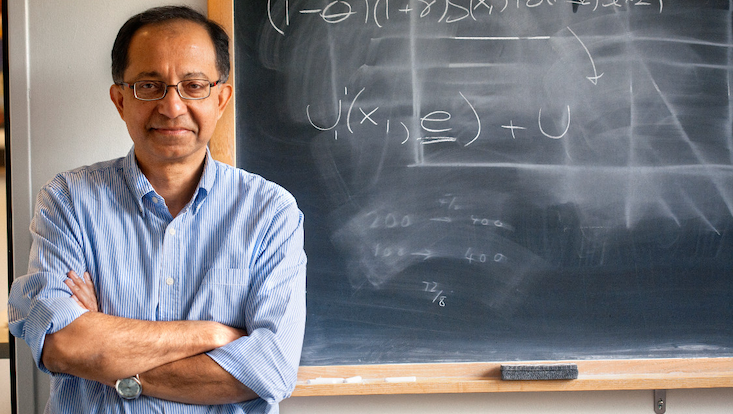 Foto: Cornell University
Wann: Mi, 11.12.2019, 18:00 Uhr, bis 20:00
Wo: Universität Hamburg, Hauptgebäude, Edmund-Siemers-Allee 1, 20146 Hamburg, Hörsaal A
The 2019 PEP Weihnachtsvorlesung will be delivered by Prof. Kaushik Basu (Cornell University, New York).

About the Lecture
Why are so many laws obeyed? The easy answer is that they are obeyed because the police and magistrates punish those who disobey. But why do they do this? In answering these questions we are led to a line of argument that can be traced from the philosopher David Hume to the game theorist John Nash. The power of the law and also the power of the political tyrant resides, in the end, in our beliefs about one another – what others will do to you if you violate expectations. This lecture will illustrate the theory with examples from history and contemporary policymaking.
About the Speaker
Kaushik Basu is Professor of Economics and Carl Marks Professor of International Studies at Cornell University. He was from 2012 to 2016 the Chief Economist of the World Bank, and from 2009 to 2012 the Chief Economic Adviser of the Government of India. He is the author of numerous books, including "Beyond the Invisible Hand: Groundwork for a New Economics" (Princeton University Press and Penguin, 2011) and "The Republic of Beliefs: A New Approach to Law and Economics" (Princeton University Press, 2018).
The Lectures
Our precarious times call for a rethinking and renewal of the shared underpinnings of an open, diverse, and inclusive democratic society. To support this process, the Institute of Philosophy offers public lectures with leading thinkers who are confronting the challenges and chances that we are facing in all dimensions of life. The idea of these lectures is to develop a culture of reason, reflection, and responsibility by bringing fundamental global debates to the heart of the campus. The series is about connecting philosophical enquiry to pragmatic action.
PEP is the interdisciplinary Master of Science in Politcs, Economics & Philosophy
The Lecture is organised by the Institute of Philosophy in cooperation with the Institute of Law & Economics.
Kontakt
Philosophisches Seminar
---